Retirement Notice
User login
Frontpage Sponsor
Poll
What do you expect from your SI Implementation partner for the success of ERP implementation.
Bring best practices - Not to offer more CR's Leveraging standard functions
14%
Need more honesty to work with the Users until their processes are fully mapped & Users are trained
43%
Focus on process automation/ integrations/ Real time data/ BI analytics
14%
Stick to basics
29%
Total votes: 14
Items for 'Microsoft' (by date)
By bamnsour at 26 Jul 2023 - 14:44
Explore B2Data at www.b2winsuite.com/b2data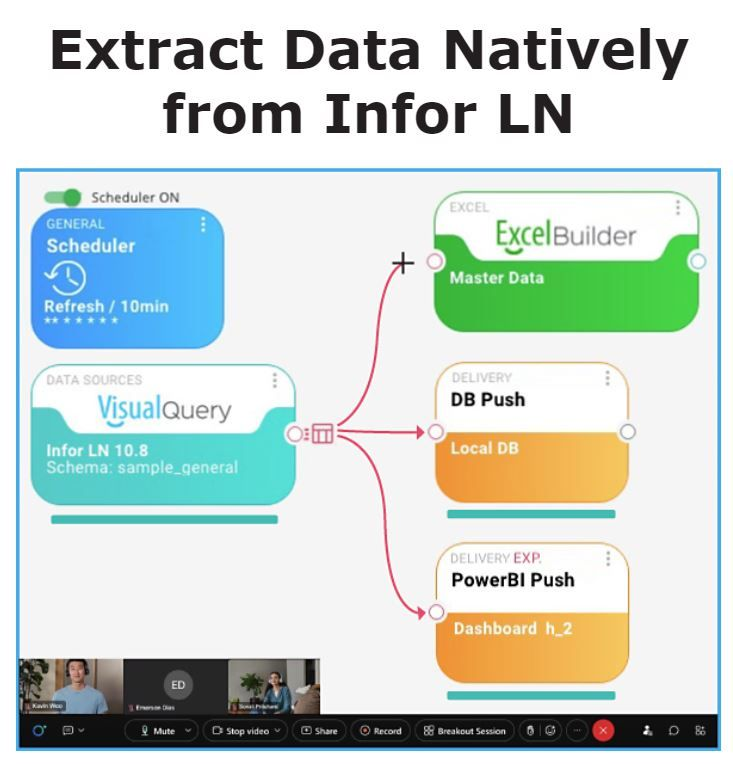 Explore B2Data - b2winsuite.com/b2data for a seamless connection to Infor LN database with full support to its unique structure,
including table and field descriptions, multiple companies, enumerated and text fields and much more.
By daldridge at 27 Dec 2014 - 18:43
By DawnMN at 22 Sep 2014 - 20:32
Sr. ERP Support Analyst will ensure applications and systems are running at peak performance.  Will troubleshoot and resolve issues, perform upgrades, maintenance and enhancements.  Lead implementations and projects, monitoring, patch management, etc.  This is a permanent, full time position with an EXCELLENT global manufacturer in Virginia in the US.  Must be a US citizen due to ITAR regulations.  Will pay for relocation for those meeting all requirements, if selected.  Offers competitive pay, outstanding benefits, and stable growing future. 
By MIGAVIS at 19 Mar 2014 - 17:03
Bei einem unserer namhaften Kunden in Berlin, Tochtergesellschaft der Deutschen Telekom AG, bietet sich diese interessante Perspektive im Rahmen einer Festanstellung.
Wir suchen ab sofort erfahrene, kompetente, zuverlässige, eigenverantwortliche und motivierte Administrator für Unternehmenslösungen (Infor LN/Baan) (w/m).
Profil: 
Gute Kenntnisse und Erfahrungen in Administration und Betrieb kommerzieller Unternehmens-Applikationen (Infor/Baan, SAP, Microsoft Dynamics o.ä.)
Kenntnisse in der Administration professioneller Datenbanken wie Oracle, SQL Server oder Informix.
Erfahrungen mit der Administration von Windows- bzw. Unix/Linux-Plattformen
Erfahrung im Umgang mit virtuellen Umgebungen wie z.B. VMware ESXi
 Aufgaben: 
Überwachung von Systemen unter Hinzunahme von Nagios und InerMapper
Konzept und Implementierung von ERP-Systemen, von der Hardware bis zur Anwendung
Administration von virtuellen Umgebungen
Kunden-Support
    Wenn es Ihnen alles soweit passt, können Sie sich gerne bewerben.   Kontaktdaten: Mail: boztepe@migavis.de Tel: 030 - 258 188 85 
By daldridge at 3 Dec 2011 - 20:39
Hello all - Wanted to share our latest blog post about Infor ERP Enterprise http://www.i-app.com/blog.html and ask a question of the group.  How important is the availability of experienced Infor ERP LN and Baan consultants for your decision to upgrade to Infor10?
By Hitesh Shah at 23 Jun 2010 - 18:23
There appears to be some concurrence emerging on BI front in the BI community. Such concurrence can be like
1. MS office (and MS excel in particular) integration with application is identified as important first & foremost component of BI for large and small enterprise equally.
2. As the company BI requirements grow, people can explore and deep dive into collaborative software Sharepoint , data warehouses , reporting tools and services etc .
Here are the links from where above conclusions seems to be emerging.
Office 2010 heeds BI propagation
Don't dismiss Excel in your BI strategy
Microsoft Promises BI For The Masses With PowerPivot For Excel
Even Infor is buddying up with MS . So users may not have to worry for office integration at all and depend on any 3rd party products !!
By Hitesh Shah at 17 Jan 2010 - 19:00
Online dashboards are frequent user queries / reports with set of all inter-related questions capable of being answered by the dashboard under user control (and not the user under control of dashboard).
Online Multi-dimensional modeling, online slicing & dicing ,charting & graphical analysis (thermostat, speedometer ,charts etc ) , drill-down to details for exceptional item etc are some of the essential features of dashboards.
Here is a sample of an excel based dashboard which gives online trial balance in multi-dimensional format with possibility to drill down to details from any database through ADODB.
Here are the links one can use to study , understand ,develop and use XL based dashboards.
http://www.erpjewels.com/Excel based Trial balance dashboard report.docx
http://www.erpjewels.com/trialbalance.xlsm
Getting graphs /charts with symbols like thermostat / speedometer etc are very easy. One can see umpteen online resource like following in the internet.
By Hitesh Shah at 11 Nov 2009 - 11:32
Yet another application to get integrated with MS Excel . Worth noting the importance of integration with MS Excel.
There is plethora of excel integrators. So while choosing excel integrator one must consider which provider/solution / download boosts the analytical capabilities of Excel (which is the core functionality of excel) and encourages free-form exchange and usage of excel . The ones which merely copies existing report in same format in excel may be useful but certainly not useful from analytical point of view . While getting excel integration , boosting the analytical capabilities and freedom of data exchange and usage must be central and focal point (just the way Sage 200 has also done ) . Further ability to use 100  mil rows in new excel 2010  also may be a consideration .
It may be worth noting "Lack of Integration to Microsoft Excel is one of the major reasons why Sage 50 customers upgrading to Sage 200" .
http://www.prlog.org/10397497-new-sage-200-integrates-seamlessly-with-microsoft-excel-enhancing-business-intelligence.html
By Hitesh Shah at 21 Mar 2009 - 17:47
While working on analysis services found certain good Excel add-ins available freely. Though some of the add-ins are not useful to us as we already have long established smart programs to accomplish much more than these add-ins do , I indicate the same here for those who may wish to use such approach for their excel integration with their database ( whatever it be ).
By Hitesh Shah at 1 Mar 2009 - 10:25
Here is a blog on a reporting strategy for baan complemented with Excel load clients. This blog discusses various approaches to reporting in Excel and ingredients of successful Excel assisted baan reporting.
WHO SHOULD READ THIS  
One should read this blog if:
one is very much comfortable with existing authorizations and semantic layer in Baan (Read baan data dictionary ) technically ( table/domain /field codes ) and functionally (descriptions )  and
one wishes to capitalize on  existing learning and knowledge of existing semantic layer in Baan (technically as well as functionally )  and do not wish to invest (or waste??) in learning / migrating /adopting / translating / maintaining new semantic layer for reporting
one is very much adept at using Baan reporting and programming for routine documents  and
one's users enjoy the freedom, flexibility and functionality of spreadsheets (which may be freeware also) for analytical purposes.
there are sufficient Office licenses already with company on PCs with high CPU and memory ( far exceeding basic Excel requirements and which have become norm rather than exceptions ) in one's place and there is high need to optimally utilize  these resources  and to reduce the load on servers .
WHO SHOULD NOT READ THIS  
One whose objectives are different OR who don't have any objectives only OR who is extremely satisfied with their current reporting already.