User login
Frontpage Sponsor
Poll
How big is your Baan-DB (just Data AND Indexes)
0 - 200 GB
19%
200 - 500 GB
27%
500 - 800 GB
4%
800 - 1200 GB
7%
1200 - 1500 GB
7%
1500 - 2000 GB
12%
> 2000 GB
25%
Total votes: 85
Baanboard at LinkedIn
By Jacoline at 24 Jun 2014 - 07:21

Within Version 3.3 HiDOX introduces a new "Document Approval Module". Based on a "reduced instruction set" you can now simply define complex workflow procedures. For more information or a web demo please contact: info@hidox.nl
HiDOX, Integrated document design and document distribution.
 
 
 
Learn more about the best integrated document solution available for Infor/BAAN:
http://www.hidox.com
By george7a at 1 Apr 2014 - 16:16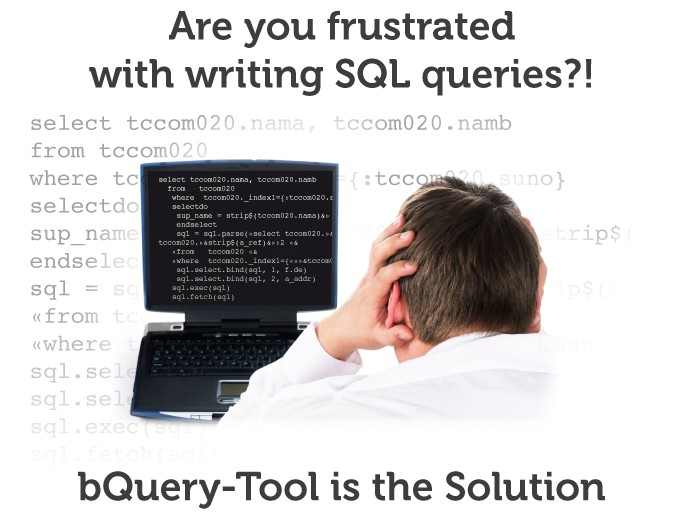 bQuery-Tool is the Solution!


Fully integrated in Baan / Infor ERP LN
Search and find fields and tables for your report without a hassle
Build complex queries without SQL or technical knowledge
Support wider reports without the width limitation (Baan's 255 characters-limit)
Easy to use data filters
Conditional and calculated fields
By rishibansal at 4 Feb 2014 - 07:49
Established Manufacturer of Filtration, Technical & Industrial Textiles to Leverage
Infor LN, Infor ION & Infor Mingle to Address Complex Manufacturing Functionalities
Tue, 11 Jan '14
Merino Services a leading Business Consulting and IT Services company and a fully owned subsidiary of USD 190 million Merino Group, today announced that KPPL (Khosla Profil Pvt. Limited) an established manufacturer & exporter of Filtration, Technical & Industrial Textiles has selected Merino Services for providing implementation services on Infor 10x Applications.
Merino services will deploy Infor LN to integrate KPPL's business operations across multiple locations. Additionally, deployment of Infor ION & Infor Mingle will provide tight integration between Infor and third-party applications & better collaboration to drive agility and speed up decision making with advanced business intelligence. Infor is fundamentally changing the way information is published and consumed in the enterprise, helping 70,000 customers in more than 200 countries and territories improve operations, drive growth, and quickly adapt to changes in business demands. Infor offers deep industry-specific applications and suites, engineered for speed, and with an innovative user experience design that is simple, transparent, and elegant. 
By george7a at 6 Nov 2013 - 12:12
A Very Special Offer for Baanboard Members
 
b2Diz  - NAZDAQ PDF Report Designer is finaly released and I am so excited to let you know that, we have made a special small package so that you can check the b2Diz capibailties in no time! A fully functional, small package, easy to install, easy to work with, that will change the way your Baan reports look forever, free!
 
To know more about this special limited offer and discount, please continue reading in this Baanboard thread.
By JoeFerro at 10 Oct 2013 - 17:06


After a very successful exhibition at Inforum 2013 in Florida, we will be attending two of this year's largest European Infor events:

The Infor ERP LN & Baan UserGroup (6th November 2013)
&
Infor on the Road (7th November 2013)

Both at the Congress Center Rosengarten (m:con), Mannheim, Germany.

For more information about our solutions, live demonstrations of our software and general output & document management advice, come and visit our stand.

We look forward to seeing you there.



Marc Jenkins (EFS Technology) & Jill McPhail (Infor) at this year's Baan LN Autumn User Conference in Birmingham


By JoeFerro at 17 Sep 2013 - 13:36
New Infor Website
Today sees the launch of our new Infor website, dedicated to showcasing our ERP LN & Baan solutions. Take a look at some of the key features of our fully integrated output and document management software or find out how our complete Infor solutions can help to bring together and streamline some of your most time consuming business processes.
As an Infor Global Solution Provider you can be sure of getting the best software, service and support for your business. So why not take a look at our new site and find out how we can add powerful new functionality and value to your ERP LN or Baan system today?
By Jacoline at 13 Sep 2013 - 12:00

HiDOX brings documents to life at GKN
The company
GKN plc is a globally-operating engineering concern chiefly active in the automobile, industry, terrain vehicles and aviation branch. The group has production plants in more than 30 countries and employs approx. 40,000 people in its subsidiary company and joint ventures.

Founded in 1932, GKN Stromag enjoys global demand as an engineering partner and parts supplier for clutches and brakes, industrial disc brakes, highly flexible couplings, multi-plate systems, and gear-cam limit switches. Following decades of successful core competences on the market, GKN Stromag is now channeling this established know-how into its profile as an innovative engineering partner in selected growth sectors. For a number of years, one integral constituent of this strategy has been the focus on "Engineering for Efficiency". With creative developments and products providing sustainable contributions to the protection of resources, GKN Stromag supports leading equipment manufacturers in the capital goods industries on their course into the future. 
By JoeFerro at 14 Aug 2013 - 16:39
The Hadley Group is the UK's largest manufacturer of cold rolled metal profiles, with a global reach spanning 5 continents. As one of EFS Technology's longest standing Infor customers, we take a look back at their installation and find out how they are still continuing to save money and improve their business efficiency using the AUTOFORM product suite with their Baan 5C system.
Head over to our website to read the full story.
By george7a at 31 May 2013 - 06:54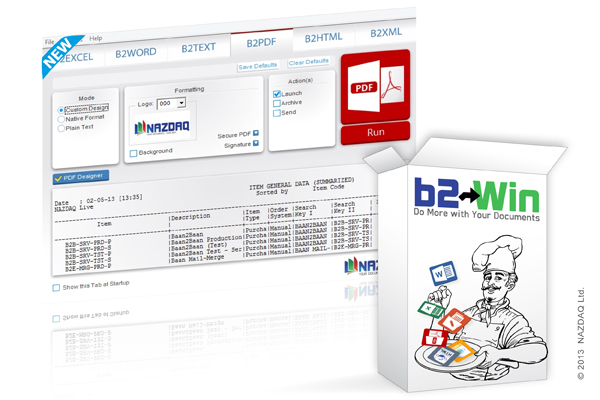 The same great product with even more functionality and the most beautiful interface we have made so far!
 
b2win8 is just the tool you want to export Baan/Erp LN report into:


MS-Excel

MS-Word

PDF


XML

HTML

Notepad
 
With the built in Report Customizer you can,
from within Baan/ERP LN choose your report type,
define headers, add templates, remove unwanted info
and much more. Learn more »
 


The PDF designer add-on for b2Win8.
With b2Diz you can turn your plain documents into professionally looking documents. Learn more »
By rahul.marothia at 20 May 2013 - 10:20
Why Do We Need ERP and Business Process Automation?
Somewhere along the line we started talking about "Serious Business", we are all "Serious" business people so this comment is not meant to slight anyone or the way business is conducted, it is meant to make people stop and assess their choices and decisions they are making in everyday business. There comes a time when the business starts to be larger than the people who started it and requires multiple people working together, sometimes in multiple locations, multiple time zones, and it just begins to press us to seriously consider how to make our lives easier and to be able to grow our Business with more profits. A few of the reasons why we need ERP and Business Process Automation.
Better Communications with Colleagues and Clients
More Efficiency = More Profits
Organization + Standards = More Profits
Company's Databases become our Data Warehouse and our ultimate value
ERP leverages our existing resources